President will give address on racial equality this afternoon after Senators are sworn in for Trump impeachment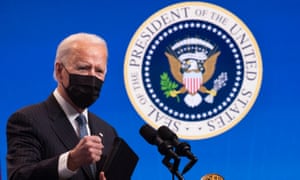 Ghislaine Maxwell asks to throw out case over Epstein plea deal
Ghislaine Maxwell, the British socialite charged with recruiting teenage girls for the US financier Jeffrey Epstein to sexually abuse in the 1990s, has asked a judge to dismiss the case on multiple grounds, including that a deal years ago not to prosecute Epstein and others should shield her from prosecution.
Lawyers for Maxwell said the indictment against her was obtained unjustly and did not allege crimes specific enough to bring before a jury.
But they listed first among 12 arguments attacking the indictment that a non-prosecution deal Epstein reached with the federal government a dozen years ago should shield Maxwell from prosecution too.
The agreement sought to protect Epstein and those around him, but Maxwell was not identified by name in the document that was signed as Epstein agreed to plead guilty to state charges in Florida that forced him to register as a sex offender.
Maxwell, 59, was arrested in July and has remained jailed on grounds she might flee. She has pleaded not guilty to charges that she recruited three teenage girls, including a 14-year-old, for Epstein to sexually abuse from 1994-97. The indictment alleged she sometimes joined in the abuse.
Read more here: Ghislaine Maxwell asks to throw out case over Epstein plea deal
Biden to sign new executive orders on his racial equity agenda
Joe Biden has frequently cited racial equity as one of the crises that his incoming administration promises to tackle. Today the new president will attempt to take further concrete steps to addressing it, with a speech at 2pm EST (7pm GMT) and some executive orders. Stephen Collinson at CNN runs down what is expected:



Biden on Tuesday will sign executive actions establishing a commission on policing, partly in response to the death of Minnesota man George Floyd with a policeman's knee on his neck last year.

He is also expected to order improvements in prison conditions and to mandate the Department of Housing and Urban Development to promote equitable housing policies.

Last week, in the first hours of his presidency, Biden signed an executive order requiring all government departments to put racial and other forms of equality at the center of everything that they do during his term.

One, established that "advancing equity for all — including people of color and others who have been historically underserved and marginalized — is the responsibility of the whole of our government."

Like much of Biden's presidency, his capacity for action, and to secure the massive funding that serious reform requires, will be constrained by narrow majorities in Congress and Washington's fractured political scene in the post-Trump era. But he does have the moral authority of having won office against a President who tore at the nation's racial chasm with a hard line "law and order" campaign based on false claims that the Democratic nominee wanted to dismantle policing as it is currently known.
Read more here: CNN – Biden aims to tackle another American crisis: Race
Hi, welcome to our live coverage of US politics for Tuesday. There won't be anything like the high drama of yesterday's delivery of the article of impeachment to the Senate, but there's still plenty going on. Here's a catch up on where we are, and what we might expect to see
The US House delivered an article of impeachment against Donald Trump to the Senate. The former president is charged with "incitement of insurrection" of the 6 January Capitol riots, when a pro-Trump mob stormed the seat of US government in an attempt to stop it certifying Joe Biden's election victory.
President Joe Biden said yesterday that Trump's trial "has to happen". However, he said he didn't think enough Republican senators would vote for impeachment to convict the ex-president.
Biden continues to unpick Trump's legacy, overturning his ban on transgender people serving in the military as part of a blitz of executive orders.
Today the president is expected at 2pm EST (7pm GMT) to delivers remarks on his racial equity agenda, and sign further executive actions.
Yesterday there were 147,254 more cases of coronavirus in the US, with 1,758 deaths recorded. The number of people hospitalized with Covid dipped below 110,000 for the first time since 13 December.
Trump's team have been distancing him from attempts to set up a new Patriot party on the far right-wing of the Republican party.
Dominion Voting Systems sued Rudy Giuliani for $1.3bn over his baseless election claims. The complaint accuses Trump's personal attorney of having 'manufactured and disseminated' a conspiracy theory related to their voting machines.
It's a busy day in Congress. Although the trial won't start until next week, Senators will be sworn in for impeachment at 1pm EST (6pm GMT). The Senate commerce committee holds a hearing with Biden nominee Gina Raimondo, and the Senate Homeland Security Committee will vote on the appointment of Alejandro Mayorkas to the DHS.
Yesterday Janet Yellen was confirmed as the nation's first female treasury secretary. The post has existed since 1789.