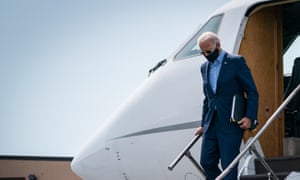 Joe Biden has national 12 point lead among likely voters, according to Reuters/Ipsos poll
We've all got views on how reliable polling is, but a new Reuters/Ipsos opinion poll today is claiming that Joe Biden leads Donald Trump by 12 percentage points nationally among likely US voters. They also say it indicates that the number of persuadable voters has shrunk compared with four years ago.
It was conducted online between 3 September and 8 September, so after the national conventions would have had their effect. It found 52% of likely voters planned to support Biden, 40% back Trump, and just 5% said they remained undecided.
Reuters report that it suggests that even if the remaining undecided voters threw their support behind Trump, he would still lose the popular vote to Biden. Not, as we've seen before, that this would preclude him from winning the presidency.
When asked what was driving their pick for president, 28% told the pollsters that it was the candidate's perceived ability to handle the coronavirus, and 23% said it was the ability to restore trust in government. An additional 19% said it was the candidate's ability to boost the economy, and 14% said they were looking for a candidate who is "tough on crime."
If you include people who said they were less likely to vote, Biden's lead reduces to eight percentage points. The Reuters/Ipsos poll was conducted online, and has a margin of error of 4%. Make of that what you will.
Joe Biden to visit Michigan, will outline an "offshoring tax penalty" policy
Democratic presidential nominee Joe Biden will visit the battleground state of Michigan today, where he will outline new proposals to tax companies that move US jobs overseas and offer incentives for companies to invest in domestic operations.
Joseph Ax reports for Reuters that in a visit to the Detroit suburb of Warren, Biden will propose an "offshoring tax penalty" on profits from products made overseas and sold in the United States, according to a Biden adviser. Biden, who has already proposed raising the corporate tax rate from 21% to 28%, would impose a 30.8% rate on such profits.
Biden's plan envisions a companion 10% tax credit for companies that reopen closed or closing facilities, bringing back off-shored jobs or expanding manufacturing payroll, among other domestic investments.
While those measures would require congressional approval, Biden is also expected to detail several executive orders he would take as president to ensure the government purchases primarily American-made goods and materials.
The remarks are the latest effort from Biden to emphasize economic issues. In recent months, Biden has unveiled a sweeping economic recovery agenda he calls "Build Back Better". The plan calls for a multi trillion-dollar investment in manufacturing, infrastructure, environmental advances and caregiving, and he has argued that Donald Trump has focused on corporate welfare and tax cuts for the wealthy instead of aiding working families.
At a campaign rally in North Carolina on Tuesday, Trump accused Biden of supporting the offshoring of American jobs overseas and asserted the economy would suffer if Biden is elected president. The president will not be campaigning today, but is expected to visit battlegrounds Michigan and Pennsylvania later in the week.
Good morning. Here's our live coverage of the day's US politics and the latest on the coronavirus crisis. Here's a quick catch-up on where we stand, and a bit on what we can expect today.
A packed crowd of hundreds gathered in North Carolina for a Donald Trump campaign rally yesterday, with many people forgoing masks, in defiance of state guidelines capping gatherings at 50 people.
During the rally, Trump said that Kamala Harris, "could never be the first woman president … That would be an insult to our country," and once again encouraged voters to commit voter fraud. He also mocked his opponent for following safety guidelines amid an ongoing pandemic.
There were 462 new coronavirus deaths and 28,549 new Covid-19 cases reported in the US on Tuesday. NBC News has calculated that over the past week, one new Covid-19 death was recorded every 106 seconds in the US.
Democratic congressional leaders rejected Republicans proposal to pass a "skinny" coronavirus relief bill.
The police chief of Rochester, New York, resigned amid protests over the death of Daniel Prude.
House Democrats are launching an investigation of the postmaster general, Louis DeJoy.
The justice department is seeking to take over Trump's defense in a defamation lawsuit from a writer who accused him of rape. It could mean taxpayers ultimately footing the bills.
California wildfires have now burned an area bigger than the state of Delaware. That surpasses the annual state record of 1.96m acres that went up in flames in 2018. Governor Gavin Newsom said the state was facing an "extraordinary" challenge.
White House Press secretary Kayleigh McEnany holds a press briefing at noon. Joe Biden is out campaigning in the battleground state Michigan.
I'm Martin Belam, you can get in touch with me at martin.belam@theguardian.com